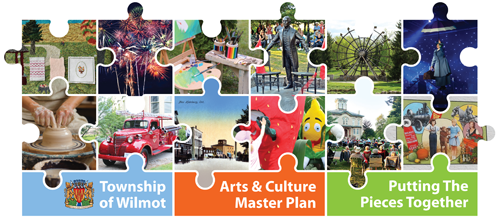 Wilmot Township is a small urban/rural municipality rich in culture within the Region of Waterloo. Our charming towns and settlement areas boast a strong connection with their past. They include: New Hamburg, Baden, St. Agatha, Petersburg, Mannheim, New Dundee, Philipsburg, Shingletown, Wilmot Centre, Haysville, Luxembourg, Lisbon, Sunfish Lake and Foxboro Green. Each has its own story to be shared.
In November 2018, Wilmot completed our first Arts and Culture Master Plan, which sets the roadmap for the future of Arts and Culture in this community.
Wilmot Township is home to many notable events and festivals that draw thousands of visitors each year. Restaurants offer exceptional local fare and businesses offer a unique retail experience.
A must see destination is Castle Kilbride National Historic Site, the jewel of Wilmot Township. Tour the furnished 1877 grand home of Canada's Flax Mill King, James Livingston. View the magnificent trompe l'oeil (French for fools the eye) murals painted throughout the home. The home offers a unique glimpse into life in Victorian Canada. Step back and tour the house that flax built.
Step into the past and take one of our historic Walking and Driving Tours. Discover the history of the area through Heritage Wilmot or learn about the Wilmot Heritage Fire Brigades.