Equity, Inclusion, Diversity and Belonging
Equity, Inclusion, Diversity and Belonging are a top priority for the Township of Wilmot. Wilmot's Strategic Plan recognizes inclusivity as a core value of the organization and the broader community. To date, Wilmot staff and Council have made significant efforts in the critical areas of Indigenous Reconciliation; Anti-Racism; and the 2SLGBTQ+ Community.
Indigenous Reconciliation
Territorial Acknowledgement
The Township of Wilmot Council adopted the inclusion of a territorial acknowledgement statement to be read at Council Meetings. Council also supports such a statement being read, if so desired, at any committee meeting as well. If you would like to use the statement that was passed by Council, it is available below.
"We have gathered in Wilmot Township on the traditional territory of the Neutral, Anishnaabeg (u‐nish‐a‐nah‐bey) Haudenosaunee (ho‐din‐a‐son‐ni) and Mississauga peoples.
We also want to acknowledge the importance of The Dish with One Spoon Covenant ‐ a peace agreement made between Indigenous nations before the Europeans arrived. It characterizes our collective responsibility to each other and Mother Earth ‐ we should take only what we need, leave enough for others and keep the dish clean.
By acknowledging this covenant and the First Nations, Métis and Inuit, we are reminded of our important connection to this land where we live, learn and work together as a community."
Prime Ministers Path
In the summer of 2021, First Peoples Group completed a comprehensive Public Engagement regarding the Prime Ministers Path. Through this community consultation, Council provided the following symbolic, substantive and systemic directions:
Symbolic

Immediately removal of existing statues related to the Prime Ministers Path and the discontinuation of any future expansion or investment in the Prime Ministers Path as it exists today.

Substantive

Creating a working group comprised of a balanced representation of the individuals and communities within Wilmot Township to discuss, develop and suggest plans for the implementation of next steps towards community cohesion and healing.

Systemic

Committing to transforming community engagement and consultation processes in Wilmot Township in a way that encourages greater openness, accountability and citizen participation in decision making.
Reconciliation Action Plan Working Group
A region-wide Reconciliation Action Plan is being developed by the Region and all area municipalities, to address key themes of concerns expressed by local Indigenous communities, see meaningful relationships enhanced between settlers and Indigenous people, and to uphold our commitments made to respond to the Calls to Action laid out by the Truth and Reconciliation Commission.
This approach will support the many voices of the local Indigenous communities to address the systemic issues and barriers for Indigenous peoples that are inherent in municipal processes, services, programs, and spaces in Waterloo Region. Embarking on the development of a region-wide Reconciliation Action Plan in collaboration with local Indigenous communities is an important next step in the Region's journey toward truth and reconciliation.
As we begin this journey of reconciliation, we acknowledge that we are learning along the way. We recognize the importance of being open, transparent, and accountable for the Reconciliation Action Plan and all subsequent actions.
It was quickly identified that a siloed approach to reconciliation initiatives will not benefit the Indigenous communities that we serve. A Reconciliation Action Plan Working Group (RAPWG) consisting of staff from the Region and all area municipalities has formed to work closely with Indigenous communities to advance reconciliation, including working collaboratively on the development of a municipal Reconciliation Action Plan.
Through the RAPWG, municipal partners provide support and leadership to move the work forward within their respective municipality consistently and collaboratively. Within the working group, several sub-committees have been established to support this work. The themes explored by the subcommittees impact every part of the organization. To further advance this work, staff from the Region and area municipalities have formed five (5) subcommittees to lead work in five specific areas of focus as outlined in the figure below.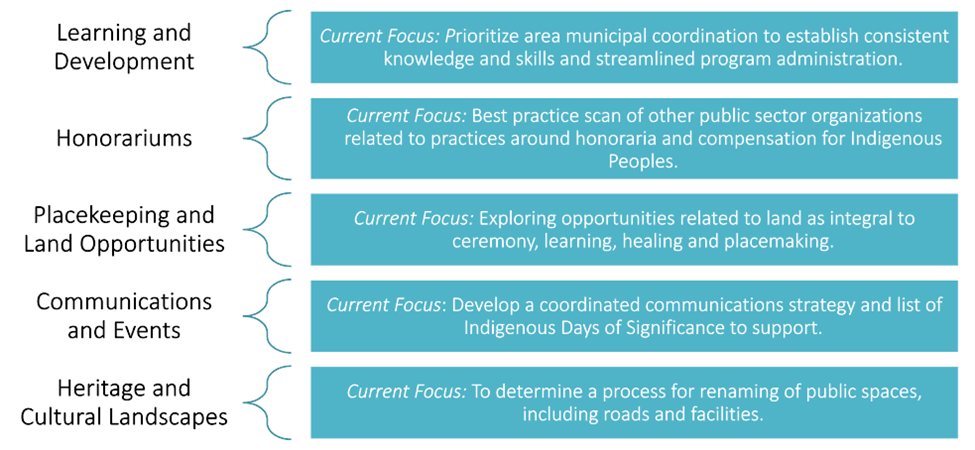 Awareness and Education
National Day of Awareness
for Missing and Murdered Indigenous Women, Girls, and People
On May 5, the Township of Wilmot joins communities across Canada in recognition of National Day of Awareness for Missing and Murdered Indigenous Women, Girls, and People.
Red Dress Day, is an annual event started by the REDress Project to raise awareness and honour the memory of Missing and Murdered Indigenous women, girls, and people across Canada.
National Indigenous History Month and National Indigenous Peoples Day
June is National Indigenous History Month. It is a time for all Canadians, Indigenous, non-Indigenous and newcomers, to reflect upon and learn the history, sacrifices, cultures, contributions, and strengths of our First Nations, Inuit, and Metis Peoples.
Taking place on the summer solstice, June 21, National Indigenous Peoples Day is a special time to learn about Indigenous Peoples, places and experiences. This is an important step forward each Canadian must take on the path to reconciliation.
National Day for Truth and Reconciliation
September 30 is National Day for Truth and Reconciliation. In previous years, this date has been recognized as Orange Shirt Day: Every Child Matters, a day to witness and honour the healing journey of residential school survivors and their families.
Steps Towards Healing and Reconciliation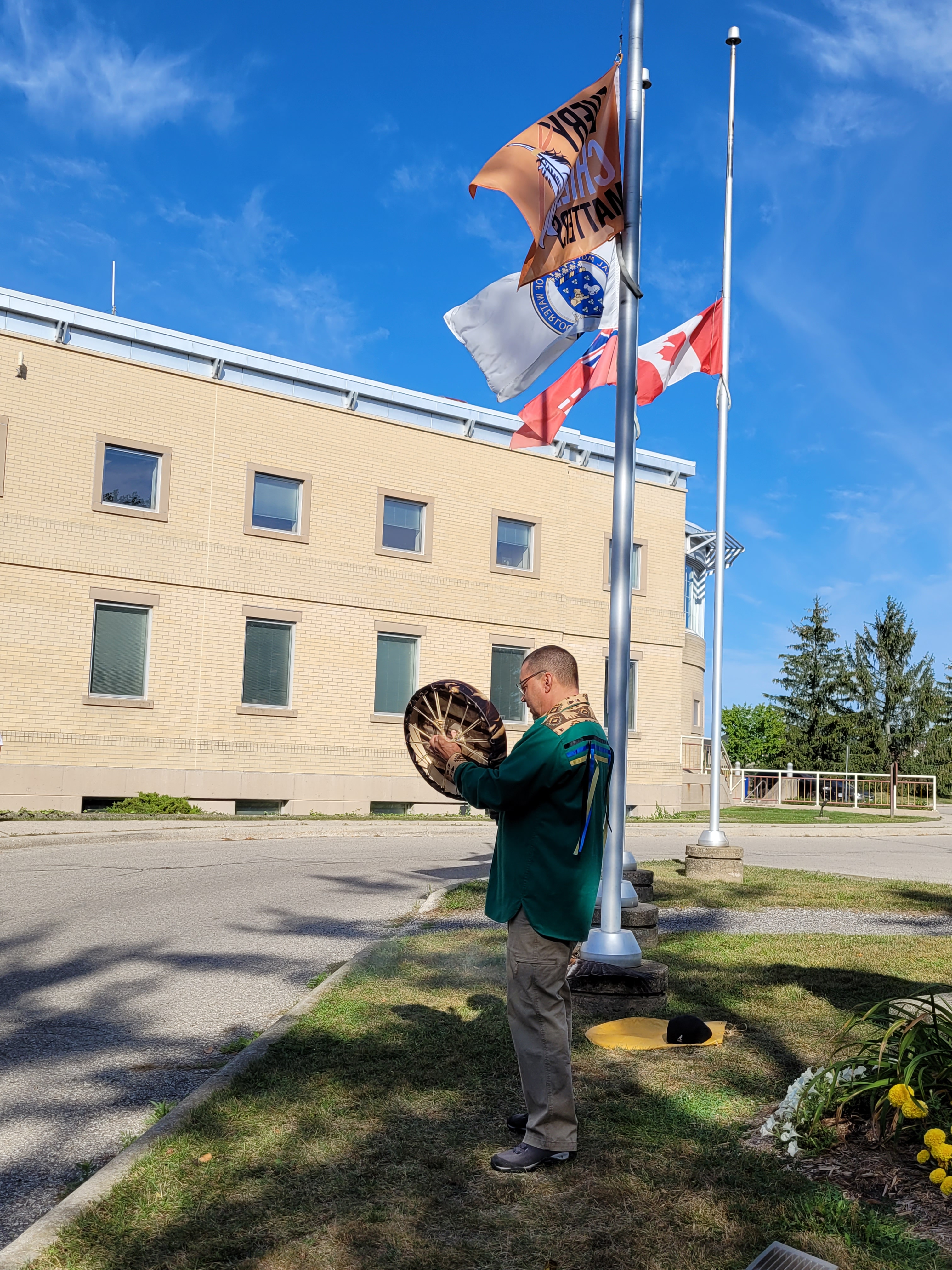 The Township of Wilmot is committed to taking the necessary steps towards healing and reconciliation with the Indigenous Community.
In 2021, Wilmot Council passed a motion to fly the "Every Child Matters" flag at the Wilmot Administration Complex for the month of September.
All Wilmot staff are encouraged to participate in educational opportunities, to learn and better understand the impacts of the Residential School System on members of the Indigenous Community and Survivors.
The Township is working with area municipalities to remove barriers to access of public spaces for Indigenous communities.
Resources were made available to Township staff to provide education on the legacy impacts of the Residential School System, and the overall history of Indigenous peoples in Canada.
Additional Resources
Anti-Racism
As a Township, we have a collective responsibility to uphold the Township's commitment to stand with all peoples who have, and continue to experience oppression and marginalization.
Anti-Racism Commitment
As a Corporation, the Township of Wilmot stands with all peoples who have and continue to face oppression and marginalization. Racism has no place in this community or anywhere.
The Township strongly believes in the Charter of Rights and Freedoms, and in equality down to our core. It is a foundation upon which all decisions are made in how to serve residents, work with each other, and represent the Township.
The Township does not stand by any form of hate, whether it is spoken or endorsed, directly or indirectly, explicitly or through complicity. Racism is racism, no matter how it is presented.
While others have and continue to be oppressed and marginalized around the world and close to home, we must continue to recognize that what people of colour experience is not okay, real change is needed, and that not being a racist is not sufficient, we must be anti‐racist.
Black History Month
Black History Month is a time to pause, learn and celebrate the many achievements and contributions of Black Canadians. Every February, people across Canada are invited to participate in Black History Month festivities and events that honour the legacy of Black Canadians and their communities.
International Day for the Elimination of Racial Discrimination
The International Day for the Elimination of Racial Discrimination recognizes that the injustices and prejudices fueled by racial discrimination take place every day. Observed annually on March 21, it commemorates the day police in Sharpeville, South Africa, opened fire and killed 69 people at a peaceful demonstration against apartheid "pass laws" in 1960.
In Canada, this date is an opportunity to reflect on the fact that while progress has been made, Indigenous Peoples, racialized communities and religious minorities in Canada continue to face racism and discrimination every day. It is also a day to re-commit our efforts to combat all forms of racial discrimination, injustice, systemic racism and hate to ensure a world where everyone is respected, safe, and has equitable access to contribute meaningfully to all aspects of society.
2SLGBTQ+
The Township of Wilmot is committed to taking the necessary steps towards supporting members of 2SLGBTQ+ community.
Pride Flag and Celebrating Pride Month
In a symbolic action to show solidarity and support for members of the 2SLGBTQ+ community, Wilmot Township Council unanimously endorsed a motion that "the pride flag shall be flown on all Township of Wilmot facility flagpoles for the month of June each year."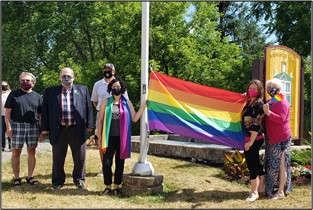 We are also working to create a more inclusive and safer environment for the local 2SLGBTQ+ community through the celebration of Pride Month and the promotion of inclusivity. Waterloo Region's Rainbow Community Space, Sprectrum Has organized a month full of events and activities that both celebrate members of our 2SLGBTQ+ communities and promote equal rights and visibility.
Rainbow Diversity Training
Township staff participate in Rainbow Diversity Training, provided by Spectrum. SPECTRUM's Rainbow Diversity Training is a service that helps organizations along the path towards becoming more open and welcoming, as well as equitable and accessible to persons of all sexual and gender diversities, both to clients and employees of the organization.
Safe and Inclusive Spaces
In an effort to create safe and inclusive spaces for ALL Wilmot residents, Rainbow Pride stickers are now displayed on all Wilmot Township facility doors. These stickers are symbolic of Wilmot's commitment to promoting a greater sense of safety and belonging for residents, and specifically for members of our 2SLGBTQ+ community.