Outdoor Tennis & Pickleball Courts
Effective Tuesday February 16, at 12:01 a.m., Wilmot and all of Region of Waterloo moved to the Red-Control level of the Province's COVID-19 response framework.
All visitors and staff will be screened for COVID-19 symptoms.
Visit our COVID-19 updates page to learn what's open and closed as well as how Wilmot services are affected.
The Township of Wilmot has three locations for outdoor tennis courts across the Township and one outdoor pickleball court located at the New Dundee Community Park.
Our outdoor courts are free of charge and available on a first-come, first-served basis.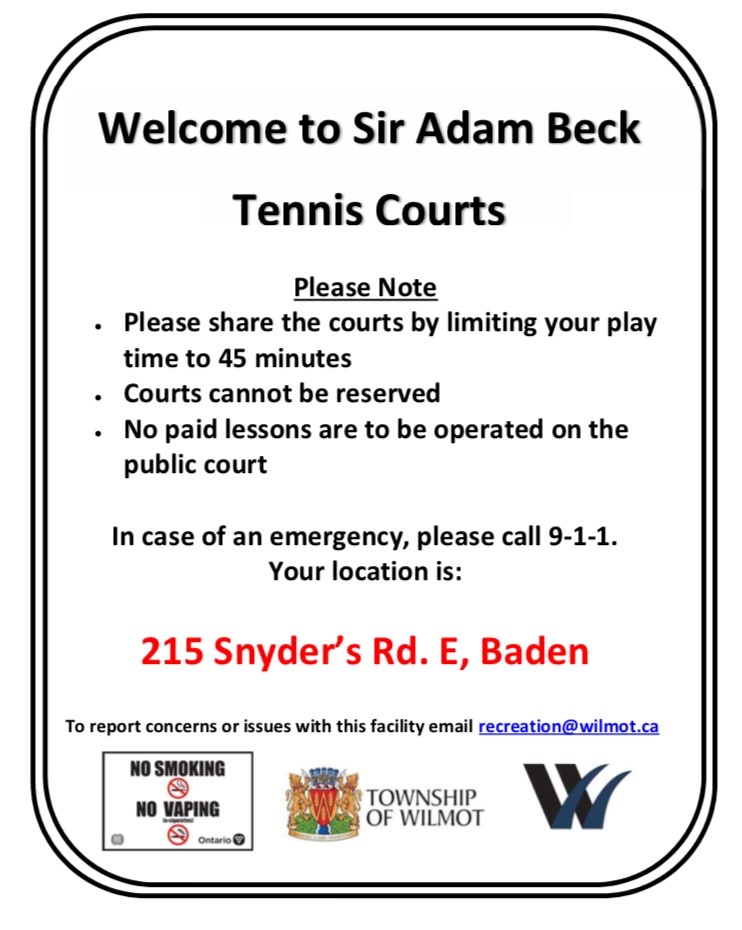 Hours of Operation
The tennis courts are available for use from 8:00 a.m. to 11:00 p.m. daily from May 1 to October 15 of each year.
Locations
Baden - Sir Adam Beck Park
215 Snyder's Road East
2 unlit Tennis Courts
New Dundee - New Dundee Community Park
1370 Main Street
1 unlit Tennis Courts; 1 unlit tennis/pickleball court
New Hamburg - Scott Park
75 Hunter Street
1 Lit Tennis Courts
Rules & Guidelines
For everyone safety and enjoyment please follow our rules & guidelines;

All courts are first-come, first-serve
Please limit playing time to 45 minutes
Courts cannot be reserved
No paid lessons are to be operated on the public court
No drawing, taping or outlining on tennis courts
No Smoking or Vaping
Interested in seeing where the closet tennis court is to your location? Visit our Parks & Facilities Listing page.