The Splash Pad is now closed for the season.
Located at the Wilmot Recreation Complex, the Splashpad is a 2800 square foot outdoor water play area.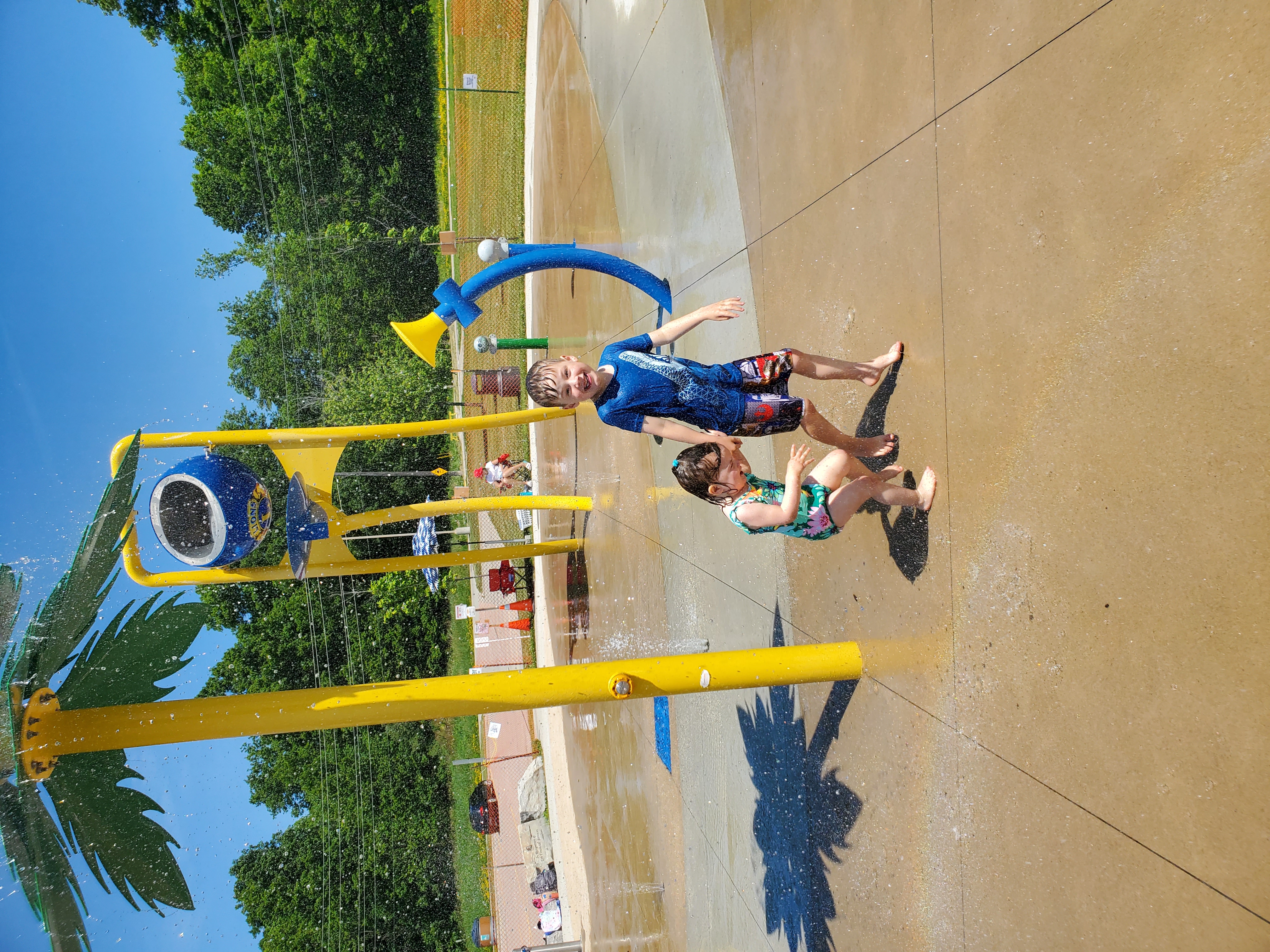 The construction of the Splashpad was a "grass roots" community initiative. To view the list of sponsors and/or donors to the project, please visit the "Bring a Splashpad to Wilmot" Fundraising Committee's website. The Splashpad offers several different types of water features for children 0 to 12 years of age to enjoy and is wheelchair accessible. The Splashpad will be open daily from 11:30 a.m. to 6:30 p.m., until Labour Day (weather permitting).
Please remember safety is everyone's responsibly and we all need to work together to keep our community safe.
To check that status of the splash pad; please visit the splash pad section of the parks and facilities page search page.
Hours of Operations & Weather Information
Hours: 11:30 a.m. to 6:30 p.m.


The Splash Pad will remain open during rain & thunder. However, the Splash Pad will be closed at the first sign of lightning; and will remained closed until a 30 minutes lightning free time frame has been reached.
If the closure due to inclement weather is within 2 hours of closing time the splash pad will remained closed and will re-open the next day.
Use of Splash Pad during COVID-19
This year the splash pad will look little different then in the past due to COVID-19 but is open for your family enjoyment.


The splash pad It will be open seven days per week, weather permitting. The splash pad will be fenced and supervised by staff as recommended by Public Health guidelines and Provincial Orders, and a maximum of 50 people will be allowed within the fenced area at any one time. This approach aligns with Phase 2 of Ontario's framework for reopening, and the June 8 provincial announcement permitting the opening of additional recreation amenities and facilities.


Along with fencing, additional safety procedures will be in place in an effort to help prevent the spread of the COVID-19 virus. Participants will be able to enjoy the splash pad in 50-minute increments to allow for disinfection of key touch points between groups of users.


There will be a first come, first served entrance process to allow equal access to residents. Participants are welcome to join back into the entrance line and may regain re-entry if capacity allows. Parents and guardians are asked to either join their children inside the gates as a part of the limited capacity; or they may choose to view from outside the fenced area (while monitoring children for physical distancing). Children age 10 and under must be accompanied by an adult to the splash pad.
Important information to consider before arriving
Important information to consider before arriving:
Operation is weather dependent
Capacity is 50 participants; however, this is subject to change if additional physical distancing measures are required
Participants will be permitted entry on the half hour in 50-minute increments to allow time to disinfect
Children should arrive dressed to enjoy the splash pad as there will be no access to indoor change rooms and outdoor washroom use is limited to one individual and/or one family at a time
It is the parent/guardian's responsibility to monitor their children for physical distancing
Picnic tables and benches are not disinfected
Chlorine levels have been raised as an extra precaution
Staff reserve the right to close the splash pad at any time
There is a playground adjacent to the splash pad