History of Castle Kilbride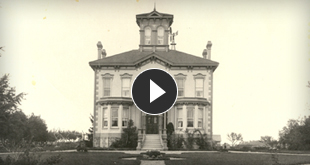 Castle Kilbride stands as a monument to our heritage and traditions, and the commitment that the people of Wilmot Township have made to preserve their heritage.
Castle Kilbride is a grand Victorian home that was built in 1877, for James Livingston, flax industrialist, politician and entrepreneur. It was named Castle Kilbride after Livingston's birthplace in East Kilbride, Scotland. The house was designed in the Italianate style of architecture and capped with a belvedere lookout. The beautiful exterior, however, is overshadowed by its outstanding interior décor.
The magnificent Trompe l'oeil ceiling and wall murals provide an optical illusion of depth. Trompe l'oeil is a French term meaning "tricks of the eye." Skillfully painted by German artist Henry Scharstein to appear three-dimensional, a closer inspection of the walls at Castle Kilbride reveals that it is painted on a flat surface with shadows and highlights to provide the illusion of depth.
Castle Kilbride served the Livingston family for three generations - spanning from 1877 to 1988, when the family made the heartbreaking decision to sell the home. In 1988 the furnishings were sold at a huge four-day auction and a development company purchased the home along with the 300 acres. However, development did not proceed and the property began to deteriorate.
Local heritage groups, proud of Wilmot Township's designated heritage building, were concerned with the Castle's deterioration. After many meetings with Township Council, the Township of Wilmot made the decision to purchase the property in 1993. Aided by federal, provincial and municipal financial support - along with active local fundraising by the Friends of Castle Kilbride - a program of detailed conservation and restoration began. In 1994, the Castle opened its doors to the public for the first time as a museum. In 1995, Castle Kilbride was designated a National Historic Site by the Historic Sites and Monument Board of Canada.
Castle Kilbride is now completely furnished and has been restored to her former glory. To fully appreciate the artistry in the Castle, you will want to see for yourself its brilliance. A tour through this magnificent Castle is a step back into the lavish Victorian Era.
Timeline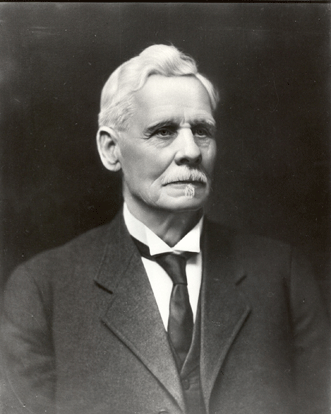 1838 - James Livingston is born in East Kilbride
1855 - James and brother John move to Canada
1856 -James and John are employed by the Perine Brothers in the flax industry
1861 - James married Baden resident Louise Liersch (over the next 25 years they will have 12 children)
1864 - James and John establish the J & J Livingston Linseed Oil Company
1867 - Baden Linseed Oil Mill opened
1876 - James purchased land from Christian Wagler to build his home "Castle Kilbride"
1877 - Construction begins on Castle Kilbride
1878/79 - Interior of Castle Kilbride is painted by artist Henry Scharstein
1894/95 - Livingston Presbyterian Church is built in Baden led by James Livingston
1896 - John Livingston died in Listowel Ontario
1900 - Company name is changed to the Dominion Linseed Oil Company
1904 - Louise Livingston died
1910 - Eldest surviving son J.P. married Petersburg resident Laura Holwell
1918 - The only child of J.P. And Laura is born- Laura Louise Livingston
1920 - James Livingston died at the age of 82 and son J.P. takes over the business and resides at Castle Kilbride
1936- Laura Louise and her mother Laura take an extensive trip to the Holy Land, Egypt, Italy and Norway
1939- Death of Laura (Holwell) Livingston
1949 - J.P. Livingston died at the age of 73, daughter Laura Louise and family move into Castle Kilbride
1985- Castle Kilbride is the first structure given a heritage designation in the Township of Wilmot.
1988-Laura Louise and husband Harris Veitch make the heartbreaking decision to sell the Castle along with the contents at a 4 day auction.
1993 - Castle Kilbride is purchased by the Township of Wilmot. A new Administration Complex is added
1994/95 - Castle Kilbride is named a National Historic Site and opens its doors as a museum to the public
Interior Trompe l'oeil paintings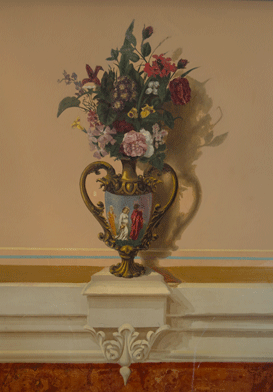 James Livingston recruited the best tradesmen to assist him with the building of his Castle. One of the best decisions he made was to hire the artist Henry Scharstein. The Castle was not painted immediately after it was built because plaster required a few months to cure. It was likely in 1878-79 that the paintings were created. The artist used a style of painting called "trompe l'oeil." Little is known about this artist, but what he left behind has inspired all who have seen his work.
Trompe l'oeil
"Trompe l'oeil" is a French term which means "to fool the eye." This illusionistic painting technique is employed in many of the decorative ceiling and wall paintings found throughout Castle Kilbride.
Evidence of this three-dimensional technique of painting of "Trompe l'oeil" was a central reason for Castle Kilbride's designation as a National Historic Site in 1995. These interior paintings are one of the finest examples of skillful artwork in a domestic home from the mid-Victorian Era in Canada. Found within the paintings at the Castle are a number of hidden images and classical motifs.
Conservation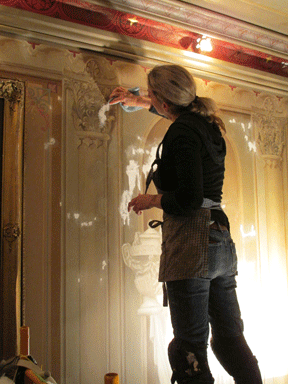 In 1993/94 an intensive interior and exterior conservation project commenced. The goal was to restore the Castle to her former glory. The exterior woodwork was in complete disrepair. Paint was carefully removed from the exterior to expose the original yellow brick. From this, a beautiful colour palette was chosen to highlight the decorative wooden features.
Fortunately, the most significant interior paintings were in moderate condition. These paintings required meticulous cleaning to remove decades of soot and only minor conservation work. The paintings that are located in the library and hallway date back to 1878. Some smaller rooms had several layers of wallpaper removed to reveal the most original surface underneath.
To ensure the longevity of these paintings, routine conservation work is performed periodically. The latest work occured in 2018.
Designation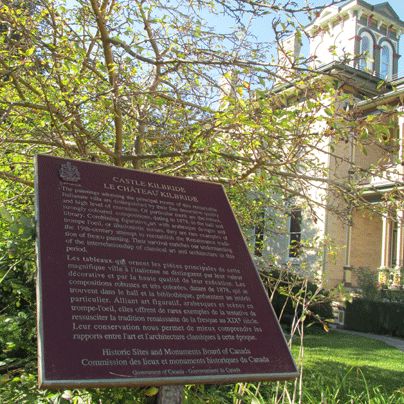 In 1985 Castle Kilbride became the first property in the Township of Wilmot to be designated under Part IV of the Ontario Heritage act (By-law No. 85-62).
The entire front and east elevations of the building, including the porches, the belvedere, the inlaid stone, circular drive and former outhouse.
The interior details of painting of the ceiling and wall, fireplaces and woodwork in the hallway on both floors, the library, smoking room, parlour, dining room, the nursery, and the front and rear interior staircases.
In September 1995, the Federal Government officially designated Castle Kilbride a National Historic Site by the Historic Sites and Monuments Board of Canada.
The two primary reasons for the Historic Sites and Monuments Board of Canada to give the designation were:
By virtue of its superb decorative mural paintings gracing its principle interior rooms

"Castle Kilbride is a superior example of an Italianate villa of its period."

"The paintings adorning the principal rooms of this remarkable Italianate villa are distinguished by their fine decorative quality and high level of execution. Of particular merit are the robust, strongly coloured compositions, dating to 1878, in the hall and library. Combining figurative art with arabesque designs and Trompe l'oeil, or illusionistic scenes, they are rare examples of the 19th Century attempt to reestablish the Renaissance tradition of fresco painting. Their survival enriches our understanding of the interrelationship of classical art and architecture in this period."

Historic Sites and Monuments Board of Canada
Collection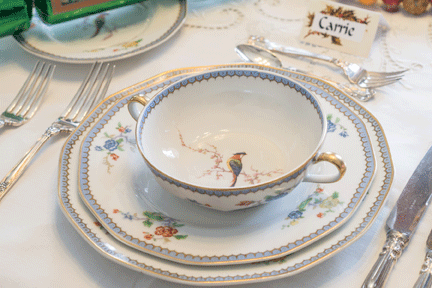 Today, Castle Kilbride is proud to maintain the large majority of original artifacts and archival materials that were once thought lost to auction. People who attended the 1988 auction and purchased items have been kind enough to donate their treasures back to the museum. Staff continues to research and collect these historic treasures. Were you at the auction or know someone who was? If so, we would love to hear from you.
Mission Statement
Castle Kilbride National Historic Site preserves and interprets the Livingston historic home, and collections and stories unique to our community. The Italianate architecture and rare Trompe l'oeil wall and ceiling murals enrich our understanding and appreciation of 19th century classical art and architecture for the education and enjoyment of all visitors.
Heritage Wilmot and Castle Kilbride Advisory Committee
The Heritage Wilmot Castle Kilbride Advisory Committee is a committee of volunteers appointed by Council.
View the meeting schedule, agenda and minutes.
Other Volunteer Opportunities
Castle Kilbride National Historic Site invites you to become a volunteer. The museum offers programming to serve both the local community and cultural tourism. We offer a range of educational programming, special events, workshops, and behind the scenes activities.
Opportunities may include:
Special Event help
General administration
Research
Tour Guiding (school and coach tours)
Archives Management
Museum Cataloguing
No experience necessary. All training will be provided. Contact Castle Kilbride to join our team today!