About Schmidt Woods
These trails consist of approximately 3.0 km of compacted stone dust multi-purpose trail (designed to meet accessibility standards), and approximately 1 km of natural ground hiking within the municipal forest surrounding the Wilmot Recreation Complex. The trail extends from the northwest corner of the WRC at the Nafziger Road entrance to the east end of the property, with a connection to the paved bike lanes on Gingerich Road.
The lands for these trails were generously donated to the Township of Wilmot by the benefactors of the Schmidt Estate as a legacy to the memory of Harold and Enid Schmidt's contributions to Baden and Wilmot Township. Construction of the Schmidt Trails was completed in part with funding received through the CIP 150 program. Read more about Harold and Enid Schmidt and the CIP 150 program.
Trail Map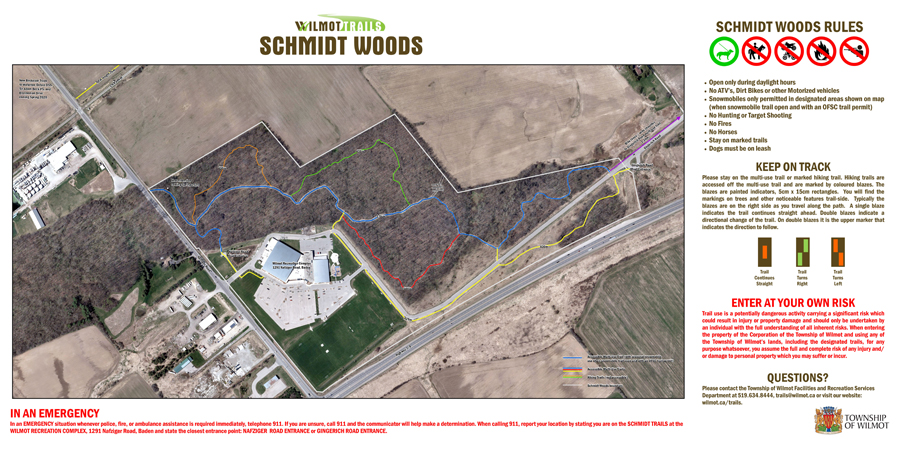 Ash trees
The Emerald Ash Borer, which is not native to North America, has caused widespread death of Ash trees across southern Ontario and throughout many of the Great Lake States in the USA.

Although woodpeckers will eat the insect larvae in the tree, they are unable to have a significant impact on the Emerald Ash Borer population.

Through the late summer and fall of 2019, the Township of Wilmot retained a contractor to remove Ash trees and other hazard trees within Schmidt Woods. Completed with approval and guidance from the Region of Waterloo, this work will allow the regeneration of non-ash species and help promote woodlot health as well as reduce risk of injury to visitors of Schmidt Woods.
December 2019: Schmidt Woods trails update
Read more about restoration plans for Schmidt Woods along with an exicting project by New Hamburg resident Mike Yost.