Visit our COVID-19 updates page to learn about Township Services During COVID-19 as well as how Wilmot Services have been affected.
The Wilmot Recreation Complex is home to a number of programs and activities such as skating, swimming, the Active Living Centre, the Optimist Youth Centre, and the Indoor Track. For a complete list of recreational programs and activities offered by the Township of Wilmot, please visit recWeb, our online registration software program.
Pickleball - Cancelled
Pickleball is cancelled until further notice
Pickleball is a paddle sports that combines Badminton, Tennis and Ping Pong.
We welcome all levels of players and have all the necessary equipment to come and try it out! This informal play is designed to incorporate the mix of beginner, intermediate and advanced players.
Two courts are available and are designed to play in singles or doubles. This program is on-going and will run on Mondays and Wednesdays with the exception of long weekends. Please see program calendars for current available dates to play.
Pickleball Program Dates & Times
This Program is offered Monday afternoons from 1:00 p.m. - 3:00 p.m. and Wednesday evenings from 6:30 p.m. - 8:30 p.m. at the St. Agatha Community Centre, located at 1791 Erb Street, St. Agatha.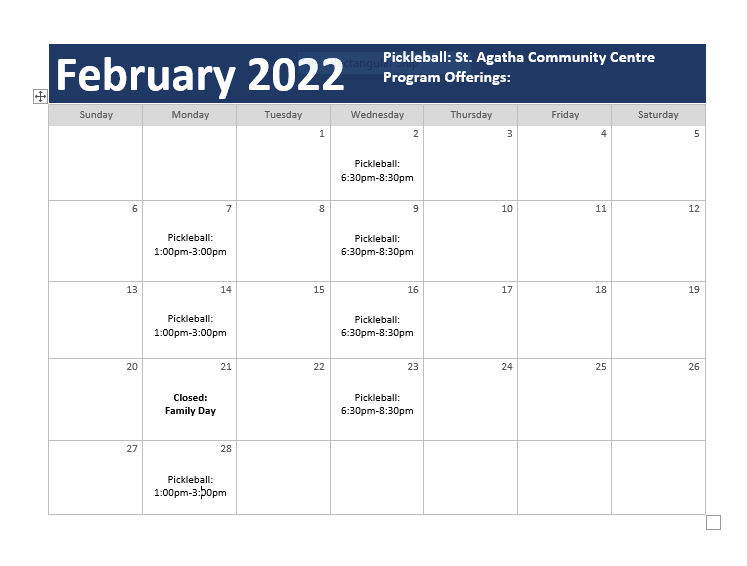 Program Rates
First visit is FREE.

Youth Recreation 10 pass: $30.97 +HST

Adult Recreation 10 pass: $42.04 +HST

Senior Recreation 10 pass: $35.40 +HST

Passes must be purchased in advance at the Wilmot Recreation Complex, located at 1291 Nafziger Rd. New Hamburg. 519 634-9225
Pickleball Covid Protocols
Information For Users
All persons 12 years and older entering the facility will be required to provide proof of vaccination and show a government issued ID.
Participants will be actively screened into the facility
Please bring your own paddles. Minimum equipment loans are available currently, with disinfecting occurring between use.
Food and beverages, excluding water, are not permitted in the facility
No Breakable containers including Glass and Ceramic containers, or bottles allowed.
Chairs will be available distantly spaced in between playing times away from the court.
All participants must wear a mask/face covering in public (into the facility and exiting the facility.) Only during active play are masks permitted to be removed.
Admission to the Community Centre will begin 5 minutes before the start of the program time.
Prior to entering any Township Facility, all participants and visitors must adhere to the following guidelines:
Please stay home if you are not feeling well, been in contact with a confirmed or probable case of COVID-19; or have recently travelled or been in close contact with someone who has travelled in the past 14 days
Use proper hygiene and wash hands frequently
Always practice safe physical distancing (2 meters)
Athletic Engagement Facilitator
Interested in Volunteering?
To further expand our program offerings we are looking for 2-or more skilled candidates for each pickleball timeslot who would be interested in volunteering & becoming an Athletic Engagement Facilitator.

There are many benefits to becoming an Athletic Engagement Facilitator such as but not limited to:

Holding a free membership for the volunteering term (minimum 1 year commitment)
Being able to play the sport(s) you love while helping others and facilitating the program
Volunteering for the community
Volunteers will receive training in WHMIS, Site safety, Township policies, Workplace harassment, basic conflict resolution, & will have full liability insurance while in the role as a volunteer.
Youth Drop In - currently not in operation
The Centre offers a place for youth to gather, socialize and play games in a safe and supervised setting. The Centre is operated on a drop-in basis three days per week, in partnership, with Wilmot Family Resource Centre for grades 5 through 12. Please visit the Optimist Youth Centre page for more information.
Active Adult Drop In - Opening Soon
The Wilmot Active Living Centre is a gathering place for older adults (ages 55+). The facility is operated in partnership by the Township of Wilmot's Facilities and Recreation Services Department and Community Care Concepts of Woolwich, Wilmot and Wellesley. Please visit the Active Living Centre page for more information.
Instructor Information
The Township of Wilmot is seeking program instructors for a variety of recreational programs such as: fitness, music, art, cooking, computers and much more. These opportunities are available on an independent contract basis, dependent on programming sessions, and involve primarily evening, weekend and some daytime courses.
Requirements for all instructors:
Certification (where applicable) and training in the specific discipline

Able to demonstrate experience providing instruction within a program setting

Possess excellent interpersonal and communication skills

Have current Standard First aid and C.P.R. certification (or be willing to obtain one at your own expense)

Required to provide both a Criminal Records Check and a Vulnerable Sector Check;

Fitness instructors are also required to provide proof of their own insurance.

How to apply: If interested please forward your resume indicating the level of experience and certifications in one of the above specified areas, and a completed Recreation Program Proposal to us.
Program Proposals
Is there a program you would like us to offer or do you have an idea for an activity? The Township of Wilmot is always looking for ways to expand the recreation, sport and leisure opportunities available to residents.
If you have an idea for a program or activity and/or would like to teach others a new skill, please read and fill out the following program proposal.