It is the owner's responsibility to understand and follow the current burn by-law. During the pandemic, there will be zero tolerance for non-compliance. The Township will be laying charges and/or billing for fire department response to calls where guidelines are not being followed. We need to reduce the number of calls and limit firefighter interaction so we can keep our firefighters safe and healthy when they must respond to critical emergencies.
Burning in built-up areas is a privilege. Please respect your neighbours and follow all regulations. If your neighbour has a complaint (e.g., smoke blowing in through windows, health concerns, etc.), we ask that you please be courteous and put out the fire.
Remember: failure to comply with the burn by-law will lead to charges or billing for fire response services.
Contained site permits
Contained site permits for campfires and outdoor style fireplaces are $45.
Contained sites:
must be located a minimum of 25 feet from any building, structure, property line, tree, hedge, fence, deck or other combustible;
can consist of a circle of stones, bricks, concrete, tire rims, or other suitable containment materials and may include manufactured containers;
must burn only clean dry wood;
must not create a nuisance for neighbours;
must have a way of extinguishing the fire available (e.g., fire extinguisher, garden hose); and
must be supervised at all times.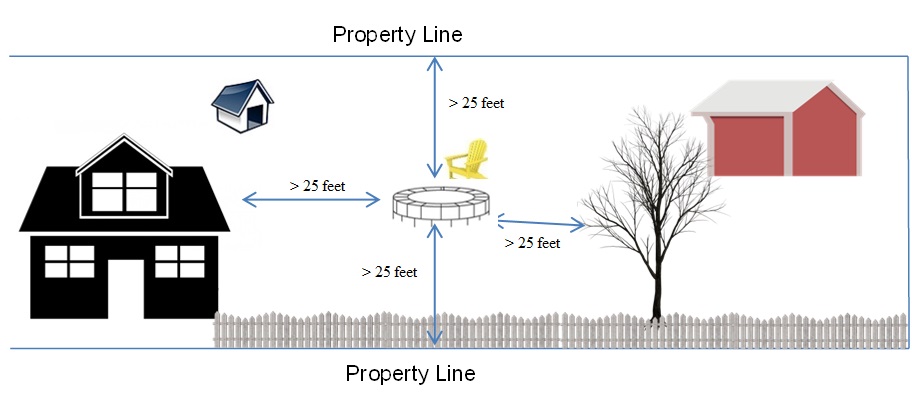 Open air burn permits
Open air burn permits for larger fires (restricted to 8 feet by 8 feet by 3 feet) are only issued to rural properties within the Township. Permits are $45 and valid for 30 days.
Open air burn permit rules include that:
burning cannot be within 100 feet of any structure;
burning must occur between sunrise and sunset only;
a responsible party of legal age must be in attendance at all times;
a way of extinguishing the fire must be available; and
Fire Dispatch must be contacted prior to and upon completion of burning.
Once the application is received, an inspector will call to arrange an inspection of the site.
Fire Services
Administration Complex
60 Snyder's Road West
T: 519-634-8444
Toll Free: 1-800-469-5576
TTY: 519-634-5037
F: 519-634-5660
Email
Map this Location