---
2023 Exhibit - Whisked Up in Wilmot
March 15 to December 30, 2023
Nothing brings people closer together than food! Wilmot has produced many fine food products. Whether it
was in the family home or produced to distribute globally, Wilmot takes the cake…..and cheese….and butter! A fun exhibit about food.
Whisked Up Weekends: Food Features
To pair with our special exhibit Whisked Up in Wilmot we are offering a special food features every month.
Dates and themes
Visit from 11:00 a.m. to Noon or 1:00 p.m. to 2:00 p.m. on these special days to learn more on the following themes as well as additional features. With regular admission.
March 26, Maple Syrup mini talk and sampling of maple candies (while supplies last)
April 8, Egg Decorating demonstration and take-home craft
May 28, Flowers in tea mini talk and sample floral tea
June 4, Just facts about flax demo and sample flax cookies
July 30, Honey mini talk and sample honeycomb
August 27, Teddy Bear picnic, bring your own picnic and join us on the front lawn for lemonade
September 24, Learn how to make a corn husk doll
October 7, Make butter and learn about butter sculptures
October 29, Cider Mills talk and sample hot or cold cider
November 26, Cheese Please, local cheese production and sample cheese
December 3, Traditional Victorian Christmas feast talk and sample shortbread
---
Heritage Day - Rescheduled to April 19th.

Since 1974, the third Monday in February has been identified as Heritage Day in Canada. Unlike other provinces who celebrate only one day in February, we in Ontario celebrate the entire week! For Heritage Wilmot, the committee has been hosting Heritage Day events for more than 30 years and has been very proud to say that the event in Wilmot has been the longest running event in Waterloo Region.
We are pleased to host our first in-person Heritage Day since 2020! Please join Heritage Wilmot to celebrate.
Event details
Wednesday April 19, 2023
From 6:00 to 9:00 p.m.
Held at Township of Wilmot Admin Complex (60 Snyder's Road West, Baden)
Free Event
Schedule of events
6:00 to 7:00 p.m. view local heritage displays representing many topics and themes.
7:00 to 8:00 p.m. join a lecture by Gary Warrick (Professor Emeritus, Department of Archaeology and Heritage Studies, Wilfrid Laurier University) and Tanya Hill-Montour (Archaeology Supervisor of the Six Nations of the Grand River) as they explore and explain the rich archaeological history of Wilmot Township with a focus on Indigenous and Cultural Heritage Landscapes.
8:00 to 9:00 p.m. end the evening with questions for the lecturer, enjoy light refreshments and visit the heritage displays.
Mother's Day Time with Mom Tours
Sunday May 14th
10:00 a.m. until 2:00 p.m. (on the hour tours)
Special rate of $5 per person (tickets are required)
Children of all ages are invited to treat their mom to a 30-minute guided tour of the Castle by costumed staff.
Ghost Walks at Castle Kilbride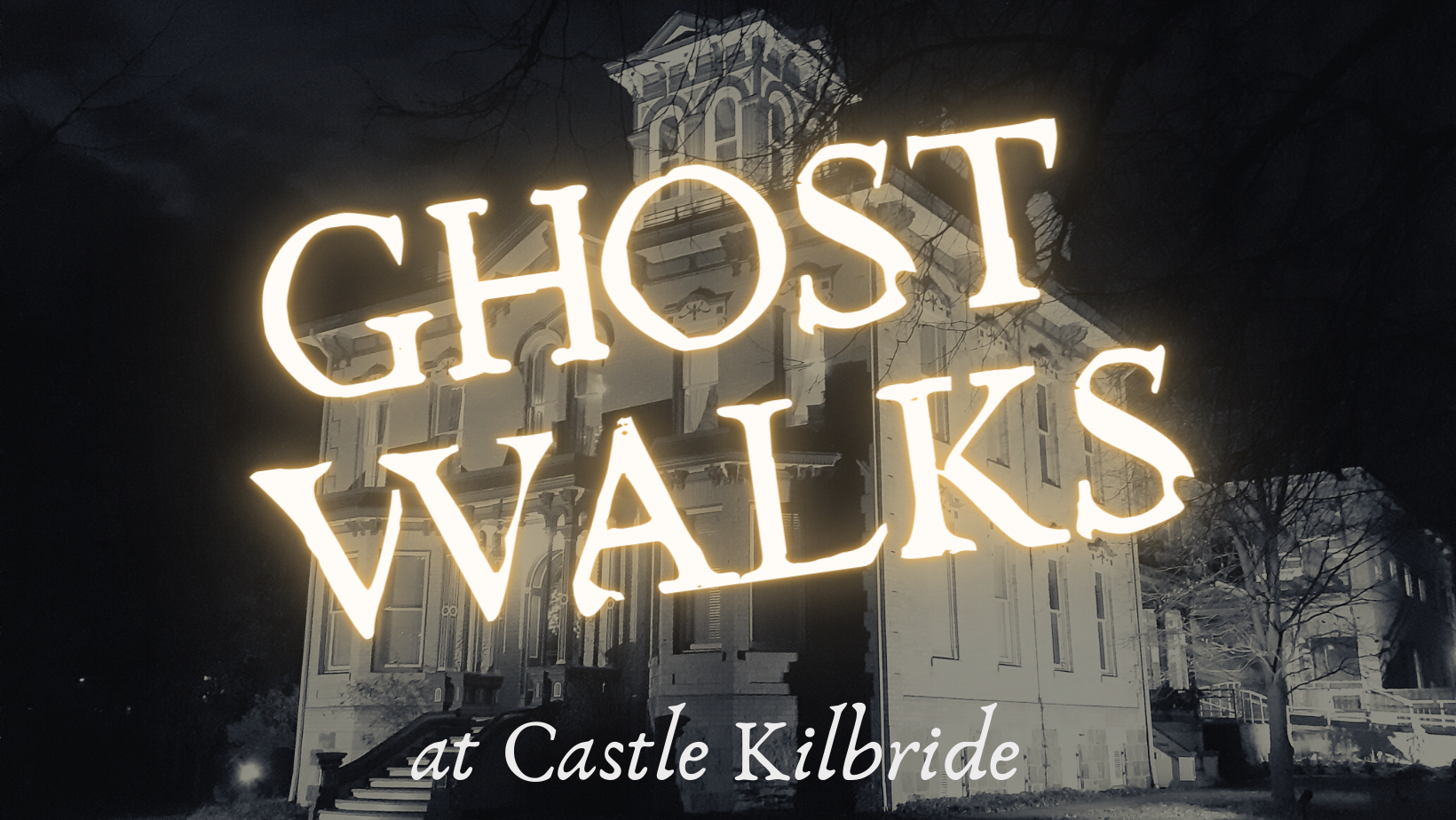 They're baaaack!
Take a walk on Castle Kilbride's eerie side. The tour features frescoes from an artist who should have been dead, playful kids throughout, including Kilbride's resident spirit and haunted antiques that have found their way back to the Castle. Participants secluded inside the house with their guide creates a perfect environment for experiences. This indoor tour has not disappointed as it has been Ghost Walks most active. Tour with costume guide as they present an out of the ordinary tour. In partnership with Ghost Walks.
Get your tickets at GhostWalks.com.
Dates
Saturday May 27
Saturday June 24
Saturday July 29
Saturday August 26
Saturday September 30
Saturday October 14
Saturday October 28
Twenties Tea and Tour
Step back 100 years to enjoy the sights and delights of a 1920s garden party. It will be the bee's knees! Tour the Castle by a costumed guide, afterwards enjoy tea and sweets on the front lawn. In the event of inclement weather, the tea will be held indoors. All teas start at 1:30 p.m. Cost is $22.00 per person.
Friday June 23
Saturday June 24
Friday July 21
Saturday July 22
Friday August 18
Friday August 19
---
Castle Kilbride Book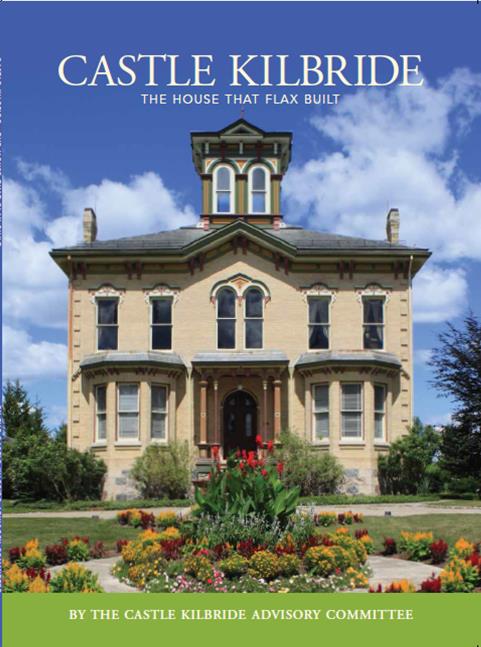 Castle Kilbride: The House That Flax Built is the definitive book about Wilmot Township's beloved National Historic Site, written and compiled by the Castle Kilbride Advisory Committee. For the first time in full colour, this gorgeously illustrated book recounts the history of the house back to its very beginnings in 1877, and illustrates that history with stunning photographs dating from over a century ago to today. For anyone who is curious about the eye-catching mansion in the middle of a quiet village, and for visitors who simply can't see everything in just one tour, this book will be a treasured keepsake. Cost $26 including tax. Available in the Castle's Gift Shop