Fire Prevention Week is October 9-15, 2022
In partnership with the National Fire Protection Association ® (NFPA®), the official sponsor of Fire Prevention Week, the Wilmot Fire Department is pleased to celebrate 100 years of Fire Prevention Week! This year's FPW campaign, "Fire won't wait. Plan your escape." works to educate everyone about simple but important actions they can take to keep themselves and those around them safe from home fires.
Fire Prevention Week Open House
We invite you to join us at Station 1 Baden, 99 Foundry Street, on Monday, October 17 for our Open House event from 7:00 p.m. to 9:00 p.m. as we provide visitors with the necessary tools and knowledge to stay safe from fire!
Come enjoy...
activities for the kids
target shooting with a fire hose
meet your local firefighters
see fire trucks and equipment
Home fire escape planning
Important tips
Today's homes burn faster than ever. You may have as little as 60 seconds to safely escape a home fire from the time the smoke alarm sounds. Your ability to get out of a home during a fire depends on early warning from smoke alarms and advance planning.
Make sure your plan meets the needs of all your family members, including those with sensory or physical disabilities.
Smoke alarms are required on all levels of of your home and must be working/not expired in order to give you and your family the time needed to escape a fire. Smoke alarms should be interconnected so when one sounds, they all sound.
Carbon monoxide alarms are required outside of all sleeping areas, if your home has an attached garage, fire place or any fuel burning appliances. They are also require be working/not expired.
All alarms will expire, even hardwire ones. Check the date of manufacture on the back of the alarm, any older than ten years old replace immediately.
Know at least two ways out of every room, if possible. Make sure all doors and windows open easily.
Have an outside meeting place a safe distance from your home where everyone should meet.
Practice your home fire drill at least twice a year with everyone in the household, including guests. Practice at least once during the day and at night.
For more fire prevention tips, activities, videos and more, please visit nfpa.org/fpw.
Creating your escape plan
How to make a home escape plan
Fun for kids
Visit the Sparky the Fire Dog website for fun videos, games and activities for children.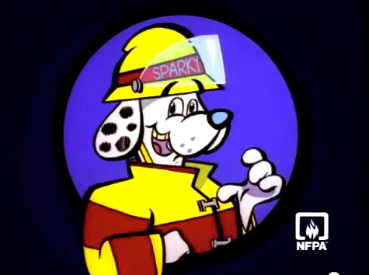 Fire Prevention Week's history
The history of Fire Prevention Week has its roots in the Great Chicago Fire, which occurred on October 9, 1871, and killed more than 250 people, left 100,000 homeless, destroyed more than 17,400 structures and burned more than 2,000 acres in 27 hours.
While the origin of the fire has never been determined, there has been much speculation over how it began. One popular legend, which was recently refuted by a Chicago historian, is that Mrs. Catherine O'Leary was milking her cow when the animal kicked over a lamp, setting the O'Leary barn on fire and starting the spectacular blaze.
On the Great Chicago Fire's 40th anniversary, the Fire Marshals Association of North America (FMANA) sponsored the first National Fire Prevention Day, advocating an annual observation as a way to keep the public informed about the importance of fire prevention.